Maggie's Tea Room at Camusnagaul
The tea room is owned by Ishbel Sinclair. You will definitely remember the cakes - they are wonderful. This is a family business and as for Maggie, well that's another story, why not ask when you visit.
Maggie's Tea Room & Craft Shop is part of a busy rural community based on farming, fishing and tourism. You will often find sheep around in the fields as well as wild deer roaming in the hills.
Outdoor seating area for lunches and travel breaks
The outdoor decking area is a great place to sit, observe the wildlife and enjoy the scenery. It's also a safe place for younger ones to play on the outdoor slide and enclosed grass area.
We do special lunches and snacks for children costing £1.50 - £2.00, you will find our prices reasonable even if you are having to feed a large family. We will also heat up baby food free of charge.
The local fishermen go out most days to bring in their catch of pot caught shrimps, crabs and lobsters.
Maggie's Tea Room originally started in the 1950's and was well known throughout the area. We started to sell crafts in 1998 and opened the new Tea Room in 2002 and local people asked us to call our new Tea Room after Maggie Mackenzie, which we have done.
Views from the Tea Room
The outdoor deck looks out over the beautiful "Little Loch Broom", while behind us is the majestic mountain "Mac is Mathair" with its eagles and buzzards and these can often be seen flying overhead.
The Craft Shop
In our Conservatory Tea Room you will also find our Craft Shop - containing a wide selection of quality goods suitable for gifts or keepsakes. You can buy some of our crafts by phoning us for special occasions such as Christmas, Birthdays and Anniversaries. However we hope you will visit us as we have a wide selection in our Craft Shop and you can sample our brilliant baking at the same time!
A selection of the items on the Menu (approx prices)
Cakes and home baking from £0.95

Sandwiches with large salad and homemade coleslaw £3.75
Salads (Ham, Scottish cheddar and pickle, Tuna & Sweetcorn, Egg) £5.25
Local smoked salmon sandwiches and salads.
Orkney sweet pickled herring salads £5.25
Home made Quiche salads £5.25

Soup served with crusty bread - £2.50

Soft drinks £0.95

Coffee per person £1.25
Tea per person (pot) £1.10
Local beers, An Teallach or Beinn Dearg £2.35
1/4 bottle white or red wine £2.50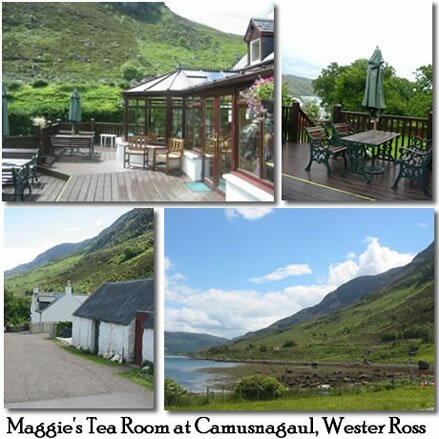 Maggie's Tea Room and Craft Shop is situated in the quiet and picturesque area of Little Loch Broom at Camusnagaul, near Dundonnell and Ullapool.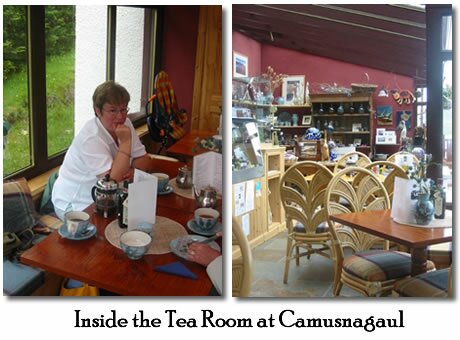 In our Conservatory Tea Room you will find a selection of delicious home baking and more substantial meals that will please and satisfy you and these can be enjoyed with a glass of wine or local beer (made in Camusnagaul) if this is to your taste. Afterwards we hope you will browse through our Craft Shop - containing a selection of quality goods suitable for gifts or keepsakes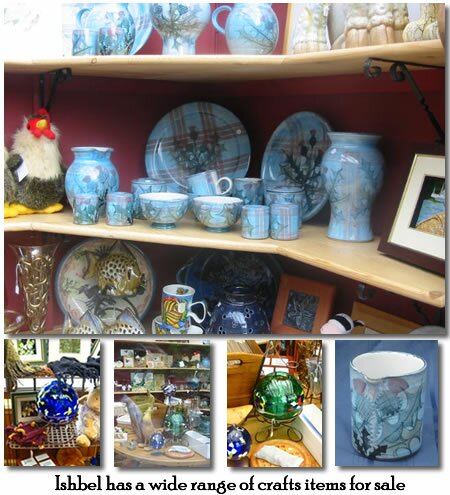 The Tea Room and Craft Shop are open 6 days a week from 10 am to 4.30 pm, we are closed on Sundays. Our season is from April to the end of September. Evening meals can be arranged in advance, please give us a phone or drop in and discuss your requirements.
We look forward to welcoming you when you visit.
Ishbel Sinclair
Contact us by Telephone on or International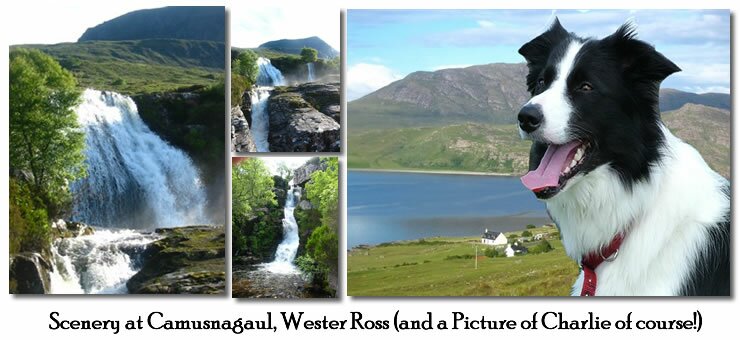 You can see more pictures of Charlie on our dog holiday blog page We also have two new dog websites - UK dogs website and our adog.ws
Copyright camusnagaul.com 2007
Ullapool - Poolewe - Dundonnell - Wester Ross
Check out the latest broadband offers on Broadband Scotland
Discover Scotland with our websites on Scotland - Scotland Travel and Scotland for maps, pictures and places to visit. You may also wish to use our shopping channel or go the family shopping site.