Scottish Highlands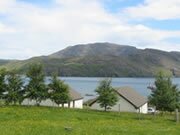 Please phone or for bed and breakfast and our two caravans
You can book the Cottage Online.
Our cottages are available all year round so book now for beautiful scenery and a peaceful location, surrounded by munros and sandy beaches. We are approximately 30 miles from Ullapool and just over one and half hrs drive from Inverness.
Online Map of Scotland
Visit our Scotland for Scottish Holidays
Amazon Shop
Amazon UK shop for Books and Scotland Maps
Amazon Books - fr - de

We have more information on our holiday Accommodation including our Cottage, Caravans and Bed and Breakfast and we hope you decide to visit Scotland and stay at Camusnagaul.
We also have a nearby Highland Hostel - Sail Mhor for hill walkers and hikers, and great for families as well.
Jambo and Fairweather wrecks.
Scotland Pictures
Wild Goats photographs taken within 2 miles of Camusnagaul.
Wester Ross
Poolewe
Loch Maree
Dundonnell
Aultbea
Ullapool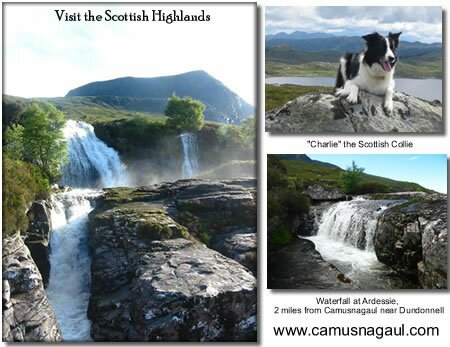 The waterfalls at Ardessie are a couple of miles from Camusnagaul on the road to Gairloch. It is advisable to wear walking boots and to keep dogs on a lead (and children under control) as the waterfalls can be spectacular after a rainfall just
like light and building show.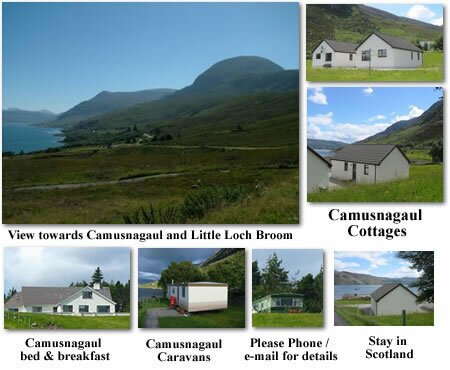 Cottages, Bed and Breakfast and Caravans at Camusnagaul in the Highlands of Scotland. Just perfect for holidays in Scotland where you want to see the west of Scotland area of the Highlands around Gairloch, Poolewe and Ullapool.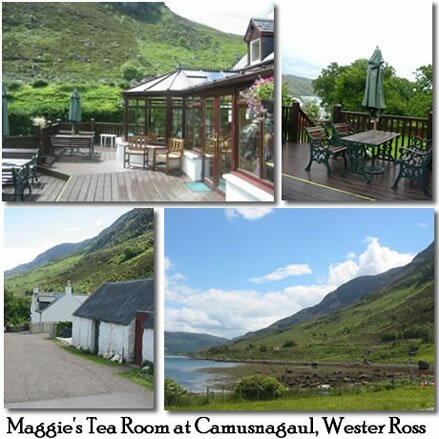 Maggie's Tea Room and craft shop is an excellent value tea room for a snack or a more substantial meal and there is a range of Scottish gifts and keepsakes to take home from your visit to Scotland. Ishbel will welcome you with hot coffee and delicious home cooking and cakes.
Nearby is the beautiful beach at Mellon Udrigle, this is just one of the many sandy beaches close to Camusnagaul. Firemore is another lovely beach where you are also allowed to camp. The nearest sandy beach is at Gruinard Bay and this is only about 20 minutes drive from our cottages and bed and breakfast accommodation. Scotland beaches including the beautiful Mellon Udrigle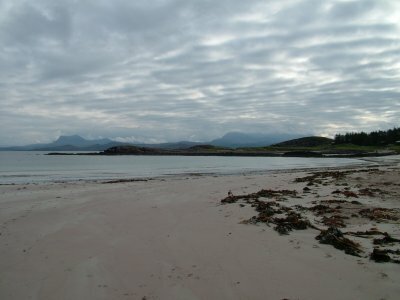 Camusnagaul is close to a number of mountain ranges that are well known for hill walking and climbing including An Teallach, Fisherfield and other Munros around Loch Maree and Ullapool.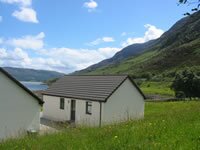 Book our Cottage Online and stay in the beautiful Scottish Highlands and Wester Ross at Camusnagaul.
We have several beautiful and outstanding beaches near Camusnagaul and you will find them great for kids and well behaved dogs.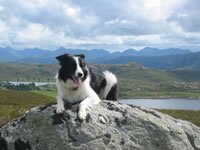 Highlands of Scotland for the wonderful scenery.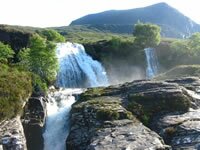 Waterfalls are just a short walking distance from us.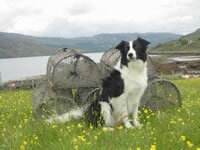 "Charlie" on holiday in our pet friendly cottage.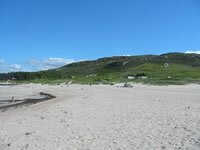 Mellon Udrigle is relatively close to Camusnagaul and is one of our favourite places to visit in Scotland.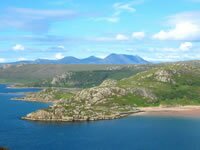 Gruinard bay is a short trip from the cottages and our bed and breakfast accommodation, great for days out and picnics.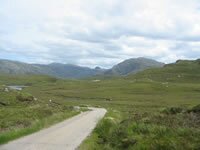 Beautiful scenery, open roads, some of the roads are single track and it gives you an excuse to wave at people when you use the passing places.
Scuba Diving & Sea Fishing in Scotland & Power Boat Charter
You can see dolphins, the occasional whale, lots of seals, otters along with many species of birds on these sea adventure trips or while out diving or fishing. With a new boat this year it is sure to get booked up soon, so phone Richard Ross on Tel: or on his Mobile: - you can also e-mail him on or visit his website for Boat Charter from Camusnagaul & Ullapool or for the more adventurous have a look at our Ullapool Sea Adventure trips.